MISSION BAY, CA — Tucked away on Mission Bay, Paradise Point, a Destination Hotel, is a 44-acre island hotel located minutes from downtown San Diego and next to SeaWorld. This plush resort and spa features California bungalow-style guestrooms amidst tropical gardens, meandering lagoons and a one-mile beach that encircles the island. Ideally situated for family getaways, romantic escapes and memorable events, Paradise Point offers five dining venues, an award-winning spa, a full-service marina for water sports, and a variety of recreational activities including surfing, biking, tennis and beach bonfires on the sand.
In 1962, movie producer Jack Skirball was introduced to the 44-acre island nestled within the vast Mission Bay Aquatic Park. Weary of building sets only to watch them being torn down at the completion of a film, Skirball immediately saw the land's potential to build a permanent fantasy-island setting for families and Hollywood executives to escape to. Skirball enlisted architect Eldridge Spencer and builder Bob Golden to help implement his ideas, and the trio worked in concert to create an extraordinarily stunning and unique vacation island escape that was insulated from the city of San Diego, but not isolated.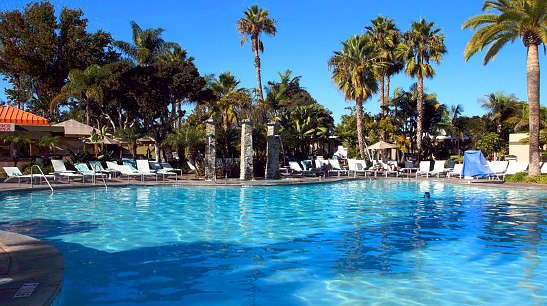 Many artifacts driven from Skirball's film-making ideas were incorporated around the property, which he named Vacation Village, and still grace the grounds to this day. Among these are the porpoise fountain from Cleopatra which Skirball produced, as well as decorative masonry that adorns the entries to the original cottages.  Also scattered among the gardens and lagoons is California's largest collection of original mission bells from along El Camino Real – the first roadway in the state, built by the Spanish during the early mission days.  In 1914, 50 of these bells were delivered to the San Diego area to line this celebrated roadway and now over 20 of these historic icons reside at Paradise Point.