Louie Schwartzberg visiting in June as Part of the New Wonder & Wellness Workshop Series
NORTH SHORE, OAHU, HAWAII — Turtle Bay Resort on Oahu's Fabled North Shore will host Louie Schwartzberg, a celebrated cinematographer, director and producer, as part of its new Wonder & Wellness workshop series from June 19-22, 2014. This is the first time Schwartzberg has been accessible to visual artists, photographers and nature lovers in such an intimate and interactive format. Highlights of his visit will include a brand-new visually stunning presentation with limited seating open to the public, a small group photography excursion, and VIP access at once-in-a-lifetime creative learning events.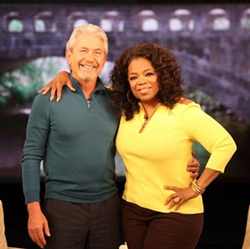 Schwartzberg, who captures breathtaking images that celebrate life, will take a deeper look at art and how it can be used to break barriers, connect with audiences, and tell stories that reveal the mysteries and wisdom of nature, people and places. Schwartzberg is an award-winning expert in time-lapse, high-speed and macro cinematography techniques, with a career spanning more than three decades.
His recent theatrical releases include the 3D IMAX film "Mysteries of the Unseen World" with National Geographic, narrated by Forest Whitaker, and the Disneynature feature "Wings of Life," narrated by Meryl Streep. "Mysteries" is a journey into invisible worlds that are too slow, too fast, too small and too vast for the human eye to see. Designed to inspire, educate and perhaps even evolve our perspective on the world, Schwartzberg also creates and curates unique Moving Art™ content, which is used in venues and technologies throughout the world. Two of his most recent TEDx Talks, "Nature. Beauty. Gratitude" and "The Hidden Beauty of Pollination" are often cited as the top TEDx views of all time.
"I hope my films inspire and open people's hearts," Schwartzberg said. "Beauty is nature's tool for survival – you protect what you love. If we can move enough people on an emotional level, I hope we can achieve the shift in consciousness we need to sustain and celebrate life."
The three-night Wonder & Wellness Exclusive Limited Package includes an intimate immersion in Schwartzberg's work, with special events led by the artist. Newly renovated epic accommodations and partial meals are included. Three-night packages start at $1,749 per person based on double occupancy, and participation in the four-day workshop is limited to 50 participants. The package includes:
    3 nights in brand-new epic accommodations at Turtle Bay Resort, including resort fee
    Welcome reception with Schwartzberg
    Meals, including daily breakfast at the new farm-to-table North Shore Kula Grille; a picnic lunch at Kawela Bay with Schwartzberg and a Hawaii cultural teacher; and dinner with Schwartzberg at the new sea-to-table Pa'akai restaurant
    $75 activity credit at Kawela Bay to explore on stand-up paddleboards, a guided kayak tour, snorkeling and more
    VIP admission, reception and seating at a special presentation of "Saving Our Planet: Nature's Mysteries Revealed Through the Lens" at Surfer, The Bar
    VIP admission and seating at Talk Story gathering with Schwartzberg at Surfer, The Bar
    Morning visual guided meditation led by Schwartzberg, followed by a Hawaiian blessing
    60-minute massage at the new Nalu Kinetic Spa and two fitness class passes
    $100 resort credit for restaurants; spa; retail or activities
An exclusive limited12-person excursion for experienced photographers led by Schwartzberg at pre-scouted locations throughout Turtle Bay's 840 acres is available for an additional supplement. Call (808) 293-6000 at Turtle Bay Resort for additional information and reservations.
"I will talk about some basic creative photography tips like adjusting depth of field, focus, composition and lighting – but more importantly how to capture the emotion you feel at the decisive moment of squeezing the trigger," Schwartzberg said of the photography excursion. "Finding images that connect with universal rhythms and the deepest part of your soul. How your mind and the sensor need to be open to anything, without judgment, waiting in the dark for light to strike, always in a state of readiness."
A limited number of advance-purchase tickets will also be available to the public for a presentation of "Saving Our Planet: Nature's Mysteries Revealed Through the Lens" at 4 p.m. on Friday, June 20, at Turtle Bay's new Surfer, The Bar, for $10 per person. All proceeds will benefit the Turtle Bay Foundation, established in 2012 to oversee the numerous charitable contributions of the resort. This event will feature a brand-new presentation of never-before-seen images, touching on topics including the summer solstice and its significance in nature. Call (808) 293-6000 or visit http://www.turtlebayresort.com/oahu_events for more.
About Turtle Bay: There's one North Shore on Oahu. And there's one resort on it. Ideal for watermen, wave watchers or waders, Turtle Bay is at the epicenter of set after set of activities, events and adventures. Complete with the finest accommodations and amenities suited for the entire family, Turtle Bay is where the "7-Mile Miracle" begins and the lineup is endless. To discover the destination and stay up to date on the Turtle Bay experience, check out Oahusfablednorthshore.com.