Executive Chef Jeff Jackson and team lead the fine-dining destination to new levels of recognition
LA JOLLA, CA — A.R. Valentien, signature restaurant of the luxury resort The Lodge at Torrey Pines, has been named the Best Hotel Restaurant by Sunset Magazine's highly competitive first annual Sunset Travel Awards. This award was highlighted in the June issue of Sunset Magazine and on www.Sunset.com, and signifies not only the exceptional fare, service and ambiance of A.R. Valentien, but also the quickly increasing allure of the San Diego dining scene in recent years.
"This is an exciting time for myself and all involved with A.R. Valentien", said Executive Chef Jeff Jackson. "An award like this is a testament to the passion, hard work and dedication on the part of the entire staff, who take such pride in providing thoughtful and memorable dining experiences to our guests and the community."
A.R. Valentien's Best Hotel Restaurant award is the result of Sunset Magazine editors and noted travel professionals combing the 13 western states and British Columbia to uncover a five-star list of best candidates, initially beginning with a list of nearly 200 entrants, which were subsequently narrowed down until determining the best culinary and travel experiences in the West.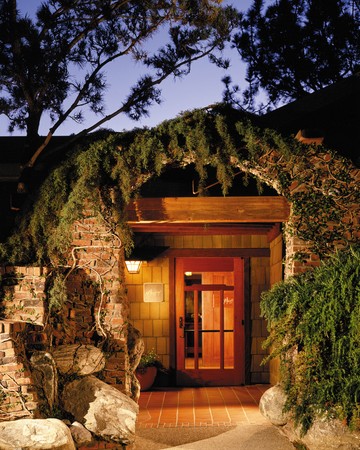 "The company would like to extend a huge congratulations to Chef Jackson and the entire culinary team as well as the entire management and service staff at A.R. Valentien for this incredible recognition," said Robert H. Gleason, president and CEO of Evans Hotels, which owns The Lodge at Torrey Pines.
About The Lodge at Torrey Pines — The Lodge at Torrey Pines is a AAA Five Diamond award-winning property offering more than 20,000 square feet of indoor and outdoor event space with views of the world-renowned Torrey Pines Golf Course and the Pacific Ocean. Guests of The Lodge can take advantage of the near-perfect weather while hiking the Torrey Pines State Reserve, golfing on Torrey Pines Golf Course or relaxing at the spa. The Lodge pays tribute to the California Craftsman Movement and is modeled after Greene and Greene's famed Gamble and Blacker houses in Pasadena, California, two of the finest examples of early 1900s Craftsman-style architecture. The Lodge features 169 spacious guest rooms and suites, a 9,500 square-foot full-service spa and two restaurants serving contemporary California cuisine. The Lodge is owned and operated by Evans Hotels and is in proximity to the San Diego International Airport, downtown San Diego and downtown La Jolla. For reservations, call (858) 453-4420 or visit www.lodgetorreypines.com.
About the A.R. Valentien — A.R. Valentien is the fine-dining destination and signature restaurant located inside The Lodge at Torrey Pines that takes advantage of the best that California has to offer: a magnificent setting, superior produce, indigenous Craftsman-style architecture and the rich history of California Impressionism. Led by Executive Chef Jeff Jackson, who has appeared as a guest chef at the esteemed James Beard House in New York City, A.R. Valentien has garnered numerous awards throughout the years, including Top Ten Farm-to-Table Restaurants by Epicurious Condé Nast and ranking as one of America's Top Restaurants by Zagat readers. For further information or reservations, visit www.arvalentien.com or call the restaurant directly at (858) 777-6635.