DEL MAR, CA — Del Mar's 77th summer racing season fired right out of the gate with a solid set of numbers in the bank after the opening three-day weekend at the shore oval.
On-track attendance was up 13.4% after the Friday-Saturday-Sunday beginning and overall handle was up even more at a plus 14.3%.  It was an ideal start for a journey that will stretch out until Labor Day Monday, September 5.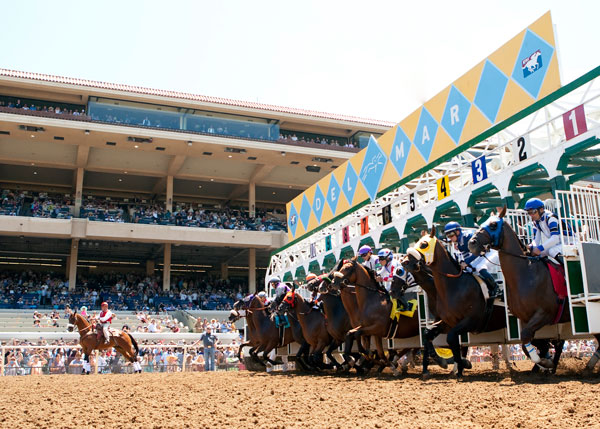 "It was great to see San Diegans and racing fans in general respond so positively to our opening week," said Del Mar Thoroughbred Club president Joe Harper. "Good crowds; good racing; good action at the window – that's what Del Mar's all about."
Topped off by the Friday opening-day party of 42,562, the three-day crowd at the seaside racing palace totaled out at 76,962 for a daily average of 25,654. Last year the three-day average was 22,613.
Bettors responded favorably to the second year of Del Mar's new dirt track and its maturing turf course, not to mention the large fields and the highly competitive racing product.
Overall, the track saw wagering reach $15,827,100 per day, a rise of nearly $2 million above last year's $13,848,778 three-day average.
California off-track wagering numbers showed healthy gains of 12.3% with a rise of more than $600,000 per day during the extended weekend. Out-of-state wagering raced up even higher, providing a 22% gain at more than $1.2 million each afternoon above the 2015 digits for the three days. After three afternoons on-track wagering was up 1.7%.
On the racing front, two sparkling grass stakes – the Yellow Ribbon Handicap and the Eddie Read Stakes – highlighted a trio of strong racing cards that saw a field-size increase to 8.9 runners per race — up from 8.6 runners last year. The track continues to be one of the national leaders in the category.
Del Mar will be dark Monday and Tuesday, then return for its standard Wednesday through Sunday racing week. The high point of Week Two is expected to be the return to action of champion California Chrome in Saturday's $200,000 San Diego Handicap, a prep for his subsequent start in the track's foremost event, the $1-million TVG Pacific Classic on Saturday, August 20.